Welcome To Fancy Gear by DETOUR
Our goal is to encourage living a fulfilled positive lifestyle, while promoting the revitalization of self-esteem and self-perception. Our message is it is never too late to reposition yourself to passionately seek and fulfill your purpose!. With this in mind we have created our exclusive clothing & merchandise so you can follow the DETOUR FANCY philosophy.
SHOP NOW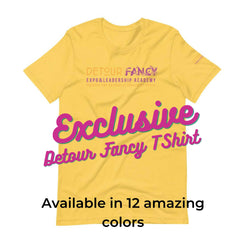 DETOUR FANCY GEAR T-SHIRT
Join the movement and get the official DETOUR FANCY GEAR SHIRT. Available in 12 amazing colors.
BUY NOW
FOLLOW US ON OUR YOUTUBE CHANNEL!